While COP26 negotiators were hard at it on Friday, Coddenham Centre Trustees, volunteers and local residents were straining muscles to help the road to net zero carbon emissions.
Part of the many duties of Treasurer and Chairman; Ray Collins and Andrew MacPherson with local residents Alan West and Steve Dixon were wrestling with the sadly neglected and defunct water cylinder at the Centre, to make way for the new Air Source Heat system.
On a deadline to clear by Monday, the cast iron six foot cylinder weighing over a ton was reluctant to give up its service to fossil fuels.
Once expertly disconnected by plumber Steve Dixon, the massive unit was less expertly manhandled over several hours as far as the door, where it proved too much for a smooth exit. The crisp Autumn air was enjoyed with a dusting of glass fibre as Alan West ably angle ground the unit into submission, after some six hours work between the 'Coddenham COP26 Team'.
Thanks to everyone involved – our future environment is not likely to be saved by just giant steps, but trillions of small ones, like this! There is never a dull moment for anyone involved with The Coddenham Centre Charitable Incorporated Organisation….. do get involved, it's fun, really.
You can see how our new project evolves over the next eight days… towards
a target to offset over 200 tons of community carbon over the next twenty years… and today's cast iron will even be sold for recycling to benefit local Scouts.
'Cop' that Glasgow!
*
*Gaelic was even spoken at key moments throughout the day too {-
Have you filled out our local energy survey yet? Please click here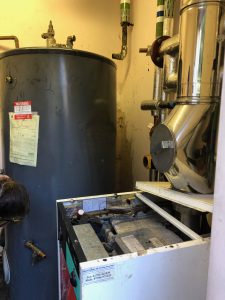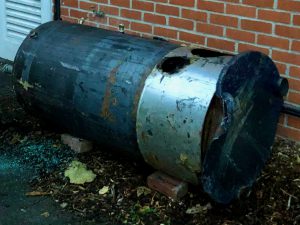 Our vanquished Fossil Fuel Friend…